CLUBS IN ALLSVENSKAN 2023
This is where you can see the clubs in allsvenskan 2023.
Simply click on one of the teams in the right menu and you'll get facts about the team, clubs homepage, coming matches, results for the team and more.
IK SIRIUS FK
CLUB LOGO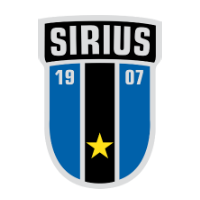 CLUB FACTS
IK Sirius FK from the town Uppsala, is a swedish footballclub that was founded 1907. IK Sirius FK stands for IdrottsKlubben Sirius FotbollsKlubb. The team plays at their arena named Studenternas. The club has up to today 0 Swedish Championship titels.
Webpage: http://www.siriusfotboll.se
Tableposition: 14
Next match: 2023-09-25 against IFK Värnamo away.
RESULTS IK Sirius FK ALLSVENSKAN 2023
2023-09-16
IK Sirius FK - Varbergs BoIS FC
7 - 0
2023-09-02
Halmstad - IK Sirius FK
2 - 1
2023-08-28
IK Sirius FK - Malmö FF
1 - 3
2023-08-20
BK Häcken - IK Sirius FK
3 - 2
2023-08-13
IK Sirius FK - Kalmar FF
3 - 0
2023-08-06
IF Elfsborg - IK Sirius FK
1 - 0
2023-07-31
IK Sirius FK - AIK
0 - 1
2023-07-24
IK Sirius FK - Mjällby AIF
2 - 3
2023-07-15
Degerfors IF - IK Sirius FK
0 - 3
2023-07-09
IK Sirius FK - Hammarby
1 - 2
2023-07-01
Malmö FF - IK Sirius FK
3 - 0
2023-06-11
IK Sirius FK - IFK Göteborg
2 - 0
2023-06-04
IK Sirius FK - IFK Värnamo
2 - 0
2023-05-27
IF Brommapojkarna - IK Sirius FK
1 - 2
2023-05-21
IK Sirius FK - Halmstad
1 - 2
2023-05-14
Mjällby AIF - IK Sirius FK
3 - 0
2023-05-08
IK Sirius FK - IF Elfsborg
3 - 4
2023-05-03
Kalmar FF - IK Sirius FK
2 - 2
2023-04-29
AIK - IK Sirius FK
0 - 0
2023-04-23
IK Sirius FK - BK Häcken
1 - 4
2023-04-17
Varbergs BoIS FC - IK Sirius FK
1 - 1
2023-04-09
IK Sirius FK - Djurgården
0 - 0
2023-04-02
IFK Norrköping FK - IK Sirius FK
1 - 1
MATCHES IK Sirius FK ALLSVENSKAN 2023
2023-09-25
IFK Värnamo - IK Sirius FK
2023-10-01
IK Sirius FK - Degerfors IF
2023-10-07
IFK Göteborg - IK Sirius FK
2023-10-21
IK Sirius FK - IF Brommapojkarna
2023-10-30
Hammarby - IK Sirius FK
2023-11-04
Djurgården - IK Sirius FK
2023-11-12
IK Sirius FK - IFK Norrköping FK
SCORE LEADERS IK Sirius FK ALLSVENSKAN 2023
| | | | | | |
| --- | --- | --- | --- | --- | --- |
| | | PLAYER | TEAM | GOALS | PENALTY |
| 1 | | Joakim Persson | IK Sirius FK | 8 | 0 |
| 2 | | Tashreeq Matthews | IK Sirius FK | 7 | 1 |
| 3 | | Melker Heier | IK Sirius FK | 4 | 0 |
| 4 | | Wessam Abou Ali | IK Sirius FK | 4 | 0 |
| 5 | | André Alsanati | IK Sirius FK | 2 | 0 |
| 6 | | Aron Bjarnason | IK Sirius FK | 2 | 0 |
| 7 | | Jamie Roche | IK Sirius FK | 2 | 0 |
| 8 | | Daniel Stensson | IK Sirius FK | 1 | 0 |
| 9 | | Dennis Widgren | IK Sirius FK | 1 | 0 |
| 10 | | Edi Sylisufaj | IK Sirius FK | 1 | 0 |
| 11 | | Marcus Klingenberg Mathisen | IK Sirius FK | 1 | 0 |